The Year in Review: Our Most Popular Blog Posts of 2020
With all the uncertainty and challenges of 2020, we've all managed to find moments of motivation, inspiration and hope for a better future. Data on our most popular blog posts of 2020 reveal that our readers want practical social media marketing tips. And they're learning to navigate the path that's been laid down in front of them.
Looking back at the past year, we can see a pattern on the types of information that marketers and small-business owners want the most. In case you missed any of the following articles, we've included some highlights on our most popular blog posts of 2020. They're broken down by month (with December excluded, as we're obviously still in the process of creating content for the remainder of the year).
Give our most popular blog posts a read to review key social media marketing solutions — and get ready to apply them going forward in 2021. Each snippet below gives you a quick glimpse at the topic, but be sure to click over to the full article to be fully informed.
January
What Makes for a Happy Franchisee? Marketing Support Is a Top Factor
Of all our most popular blog posts, this one wins the prize for being the most predictive. We spoke with Michelle Rowan, President and COO of Franchise Business Review, to learn more about the marketing- and technology-related factors that contribute to franchisee happiness. We asked, among other things, "How can franchisees gain a competitive advantage in the marketplace?"
Being that this article was published before the pandemic, Rowan's response seemed to foretell future events. As we indicated in the post, during uncertain times when there's potential for an economic downturn, businesses tend to slash marketing budgets first.
"That's the biggest mistake they can make," warned Rowan. In actuality, businesses that keep allocating money toward marketing will be better positioned to set themselves apart in any type of economy.
"Spending those marketing dollars and creating that community online and in local markets — that's your competitive advantage," added Rowan. "You're getting a lot of exposure, and it puts your business in a position of strength. It says, 'Hey, we're still here and here's the reason to come to our store rather than theirs.' "
For some franchisees, being involved with marketing isn't something they have the time or desire to do. In that case, outsourcing their marketing can be an ideal way to promote their business while devoting time and effort to the things they enjoy. "If [marketing] is not your skill set, look for an outside partner that does these things well so you can focus on what you're good at," advised Rowan.
If a franchisor's marketing plan is well-planned and well-executed — perhaps with the support of an outside partner like Rallio that has marketing expertise — then it can provide exactly the kind of stability and predictable success that franchisees sign up for when they join a franchise organization.
Some franchisees may think they can do better and go rogue right off the bat, said Rowan, trying to execute a different marketing plan than what the franchisor has provided. That's a recipe for failure that Rowan recommends avoiding.
Instead, simply follow the proven plan the franchisor provides and the dollars they have allocated toward marketing. "Don't assume you know better," said Rowan. "It should be a proven model if you bought into the right brand."
February
How to Spring-Clean Your Social Media Marketing Strategy
When you don't pay attention to your social media pages, they tend to accumulate digital "dust" in the same way your windows accumulate dirt. You may notice from time to time that the glass looks a little dirty, but you figure you'll get to it tomorrow — and then tomorrow turns into next month … turns into next year.
Eventually, you have to either close the blinds and hope no one notices, or tackle the project and get those windows sparkling again.
Make it a priority to give your accounts a thorough vetting, not only in the spring, but on a regular basis. Our checklist will help you prioritize your "spring cleaning" duties across the platforms, polish up your social media marketing strategy and delegate anything you want to get off your plate:
Update your profile and cover photos

Complete your profile

Post local content regularly

Complete your bio

Evaluate your social media spend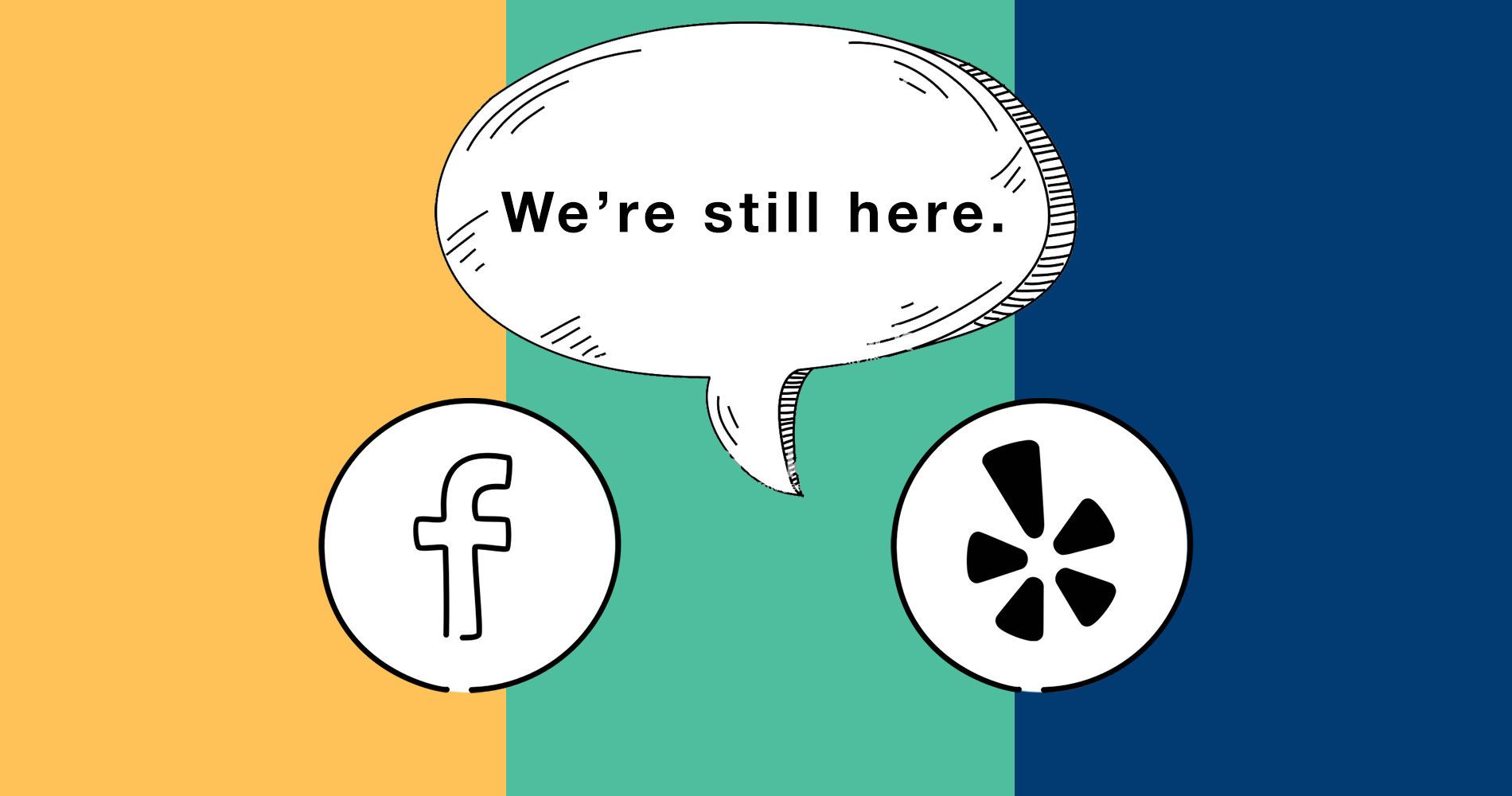 March
Social Media Marketing, the Quarantine Edition: How to Pivot When Times Get Tough
Now more than ever, it's critical that you pay attention to what customers are saying, asking about and commenting on via social media and online review platforms.
There's been a huge surge in the use of social media and online usage ever since COVID-19 caused the need for social distancing, quarantining and lockdowns for people and communities around the world. eMarketer rightly predicted a boost in digital media consumption across social platforms as people turned to social media to connect with loved ones or access coronavirus news.
With many local businesses having to limit their hours, shift their product or service offerings, or even shut down operations altogether, their customers are now at home, scrolling their feeds throughout the day. That means you not only have an opportunity to get in front of them with local content and remind them you're still actively engaged with your community, but also generate and respond to your reviews online.
What can you do about it?
Ask your customers for reviews on Facebook, Yelp and other review platforms.

Edit your business listing.

You may be able to add a "temporarily closed" or "takeout/delivery available" descriptor to your business name in GMB.

Publish your reviews as posts.

Ask your customers to share their reviews.

Generate your own buzz.

Go live on Instagram and Facebook to tell your customers about any changes, limited hours or just to spread some positivity, humor and love!

Pivot.

Are you facing unprecedented changes in your business? So now is the time to do unprecedented, miraculous things.

Keep calm and post on.

Now is

not the time

to stop marketing yourself.
April
The Pandemic and Pet Businesses: How Social Media Can Help
You've probably heard it said by now that the real winners in the COVID-19 crisis are the dogs. As you're sheltering at home and spending more time with them than perhaps ever before, they're blissfully unaware of the pandemic wreaking havoc around the globe.
That goes for cats, too — though they won't admit it. Really, any kind of animal companion you have at home is probably extremely happy you're at their side 24/7.
For retailers and pet clinics or shelters providing products and services to our fur babies, there's an incredible opportunity to connect with pet owners on social media throughout this time of need. Just as we humans need to get to the grocery store for food or to the doctor for certain medical needs, we have to be able to supply the basic necessities and healthcare — and all the treats and toys — for our precious pets.
Many retailers and providers are remaining open during the COVID-19 crisis, ensuring that all our pets' needs are met. However, at the same time, they are operating under restrictions to ensure social distancing and to prevent the spread of the coronavirus. If you have a pet-related business, this article will specifically help you to pivot your business model, connect with a captive digital audience and even grow your business despite COVID-19.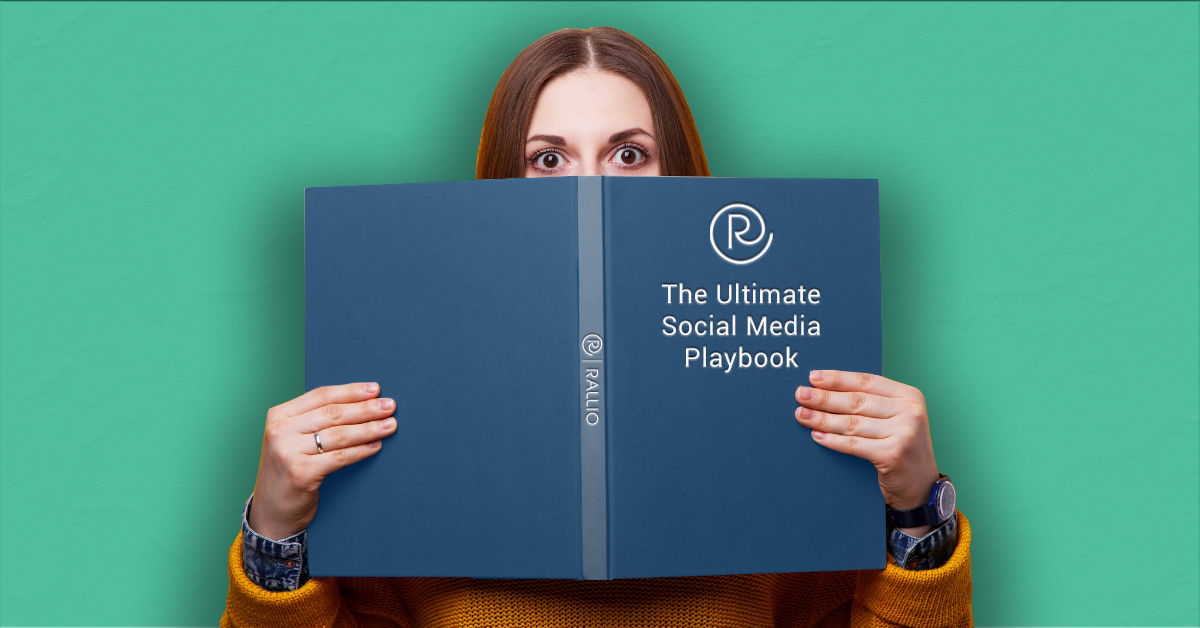 Related: What's a Better Bet, Bitcoin or a Cockapoo?
May
Franchise Social Media Best Practices You Need to Know
Being in business "for yourself, but not by yourself" is the classic allure of franchise ownership. Buying a franchise means buying into proven systems and processes, with a team that's there for you every step of the way. From your marketing to your operations, you have a plan for starting and growing your business right from the get-go.
What's not always immediately evident within those systems and processes are the franchise social media best practices. When we start working with clients, one of the first things we'll take a look at is whether they have any kind of guidelines in place. Then we either add to them or help develop guidelines that work within the framework of our Rallio technology and services.
What we find time and time again is that those organizations that have a system in place from the start are successful at growing their online presence. Those that don't … aren't.
With guidelines, it's clear what franchisees can and cannot do on social media. If you need to develop guidelines of your own for your franchise, we recommend implementing the following franchise social media best practices:
Be grammatically correct

Take videos in good lighting

Make sure we can hear you

Don't use music you don't own

Keep it friendly in the face of criticism
June
The Ultimate Guide to Social Media Recruiting
It's understanding why this one would make the list of our most popular blog posts. With many businesses reopening around the country, there may be an increased need for new hires. Social media recruiting is one of the best ways to find the talent you need and streamline the hiring process.
If you're looking to fill any vacant spots on your team, there are many ways to use social media recruiting to your advantage. It's not as simple as creating a job posting and hoping the best candidates start flooding in; actually, a lot of the "recruiting" process will happen before you even make contact with a job applicant.
The Muse reports that 92 percent of companies use social media in recruiting — and 29 percent of job seekers turn to social media as their primary job-seeking tool. In a nutshell, employers and would-be employees alike are checking each other out on social media.
As such, getting your recruiting ducks in a row is extra important in order to source the best talent on social media. Our Ultimate Guide to Social Media Recruiting will help you skip common missteps and put your best virtual face forward for your brand. You'll save a ton of money over traditional job sites — while also furthering your overall marketing goals. Here's what you need to do:
Know your platforms

Make it local

Leverage employee advocacy

Manage your online reputation and directory listings

Boost your posts
July
Top 5 Social Media Growth Hacks for 2020
So you took the time to set up your social media pages for your business. Great work! What happens next is critical to your social media success, and you'll need the right growth hacks to make an impact.
Keep in mind, the single most important factors for your social media success are still:
Posting local content

Boosting content
You'll need to keep doing both of those things even as you implement the growth hacks we suggest below. Essentially, all of these hacks should circle back to local content and boosted posts.
Try out the growth hacks below to take your social media presence from "meh" to great:
Activate employees and micro-influencers

Go live

Mention other accounts

Get involved in conversations

Check up on your competitors

Think bigger

August
31 Days of Social Media Content Ideas
When it comes to posting regularly on social media, sometimes that's easier said than done for busy small-business owners. Oftentimes when we talk to franchisees or independent operators, they tell us they're stumped on content ideas. And getting stumped can mean not posting anything at all.
To help you avoid the dreaded writer's block and a page with outdated content, we've put together an entire month's worth of content ideas below. You'll still need to put in a little effort to bring these content ideas to life. However, keeping this list of content ideas handy will take away at least some of the struggle associated with posting to social media.
Keep in mind, your work is not done once you post something to your social profiles. All the content ideas and social media posts in the world won't mean much if you don't engage with your followers. By engaging, we mean:
Replying back to their social media comments, direct messages and reviews

Boosting your content to make it more visible to followers and their friends

Handling any customer service inquiries in a timely fashion (yes, social media is a customer service medium)

Responding to job applications if you have an active recruiting campaign

Basically staying on top of your social media 24/7
If all of the above sounds exhausting, and if even these content ideas seem overwhelming, feel free to schedule some time with us. We'd be happy to throw some ideas around of how Rallio can assist with your social media management.

September
Top 9 Social Media Questions, Answered
Our list of the most popular blog posts wouldn't be complete without the most popular social media questions.
The top social media questions can range from technical to tactical when you're new to the world of social media marketing. Although you might not feel like a master of social media platforms from day one, rest assured you can jump in and start making progress right away.
If you have a long list of social media questions, we're betting that some of them are included in the list below. We've rounded some of the top social media questions and provided answers to all of them. And within the next five to 10 minutes, you can feel more confident navigating any other social media questions you might have.
How many people use social media today?

How many people use Facebook?

How often should I post?

What do I post?

Why do I need to boost?

Why do I need to respond to all my reviews?

Do I have to respond to all my comments and messages, too?

How do I get started?

I don't have time for all this. What do I do?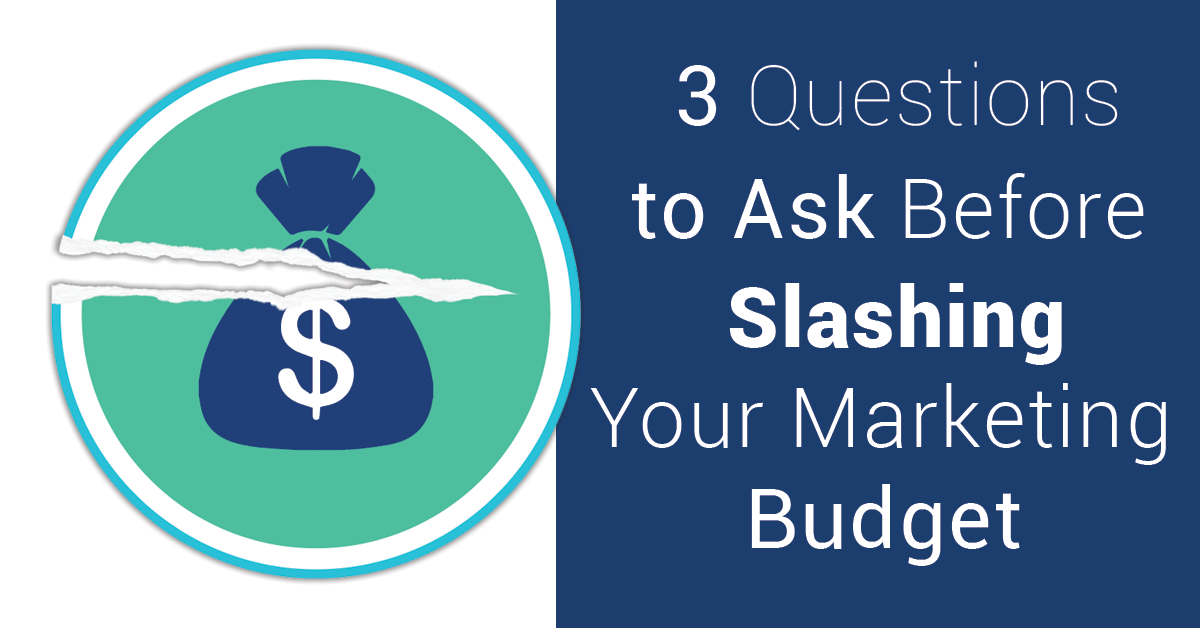 October
3 Critical Questions to Ask Before Slashing Your Marketing Budget
If you're thinking of slashing your marketing budget right now, you're not alone. Faced with the pandemic and economic uncertainties, many business owners are looking for ways to trim their expenses.
While there may be certain cost-cutting measures you can take, however, your marketing budget should not be one of them. With internet and social media usage at an all-time high, you have an opportunity to reach customers who otherwise would never find you.
"During a March 2020 survey of social media users in the United States, 43.1 percent of respondents stated that if confined to their homes during the coronavirus, they would use Instagram more during that period. YouTube and Facebook were also popular social platforms that users were estimating to increase their usage during physical distancing at home." — Statista
Although the pandemic has brought about challenging times for businesses and consumers alike, now is not the time to reduce marketing spending. In fact, ramping up your marketing budget could be the thing that pushes you ahead of your competition.
According to Harvard Business Review (HBR): "Companies that have bounced back most strongly from previous recessions usually did not cut their marketing spend, and in many cases actually increased it. But they did change what they were spending their marketing budget on and when to reflect the new context in which they operated."
So rather than cut your marketing budget, ask yourself these three critical questions. You might find that it's simply a matter of reallocating your marketing dollars in new and better ways:
Have you pivoted?

Are you satisfied with your share of voice?

Can you better allocate your marketing budget?
November
How to Handle Negative Online Reviews
When you've worked hard to build a business, negative online reviews can be a real disappointment. You might do everything right, and some customer, somewhere, will manage to find something wrong. Unfortunately, this is simply a fact of doing business in the 21st century.
At the same time, negative online reviews are a chance to diffuse customer complaints and demonstrate empathy, patience and understanding. You can smooth over the situation while showing the general public that you can handle criticism.
When negative online reviews come your way — and they probably will at some point — there are a few things you can do to make things right. Start by taking a deep breath, and then walk yourself through these tips:
Don't react

Be professional

Respond quickly

Customize your responses

Be systematic
The Most Popular Blog Posts Are a Great Starting Point
Heading into 2021, you can prepare yourself for the year ahead with a deep-dive into our most blog posts of 2020. Don't stop there, however. Reading is just the first step; making progress requires action.
As you're preparing your budget and social media marketing plans for 2021, you have much to consider. The promise of a vaccine and clearer skies ahead means you can be hopeful, but not lackadaisical.
Approach the new year with the same enthusiasm and determination with which you began 2020. Plan for unforeseen circumstances, as well as the changing face of business as we know it.
If our most popular blog posts give you ideas of how to tackle the road ahead, please share the information with your network. And reach out to Rallio if you're looking for that unicorn sherpa to lead you through what will certainly be more uncertain times ahead.