Toolkit: Unlock Social Media Success for Your Local Business
If we've learned anything over the past couple of years, it's that social media is critical to the success of local businesses, creators, and influencers. Yet at the same time, some brands may struggle to find the right strategies for connecting with and influencing their audiences. If that sounds like you, fear not! We've put together this toolkit to help anyone from startups to enterprise-level decision makers ramp up their social media success, both now and in the not-so-distant future.
What's Inside
How to: Create Engaging Local Content
Tips: Provide Outstanding Customer Service on Social Media
Checklist: Find the Right Content Mix for Your Brand
Video: Increase Exposure With Both Paid and Organic Posts
Tool: Get Organized With the Rallio Dashboard 
How to: Create Engaging Local Content
You may already know that people are more likely to make purchases from companies they feel are relatable. That's why it's so important that your social media marketing strategy includes local content. If you're not posting local content on your social media pages, you're missing out on opportunities to connect with your audience, build trust, increase leads, and ultimately boost your sales.
While it might sound complicated to create local content, it's quite simple. The steps look something like this:
Snap a photo of someone or something in your store, at home, or behind the scenes of your business. You can also film a short video.
Upload it to your social media channels of choice. We recommend, at a minimum, posting on Facebook and Instagram for B2C businesses and including LinkedIn and Twitter if you're looking to develop B2B and professional relationships.
Add a caption. Tell your audience what's going on in the photo or video. Add hashtags when posting on Instagram. Tag other people and/or businesses to increase exposure.
Post your photo or video. You're almost done!
Go back later and check your post analytics to see how it performed. Make any tweaks as needed to the content. Boost at least one post per week to increase its reach.
Here are some ideas for engaging local content:
Create posts based on calendar events, such as holidays and national celebrations

Share relevant news stories and blog posts on Facebook

Post pictures and videos of your products in use

Link to stories about others in your industry

Show "before and after" photos if your business lends itself to that type of content
Tips: Provide Outstanding Customer Service on Social Media
Social media has become the go-to place for people to share their experiences and get feedback from others. If you're a business, you must monitor your social media channels for customer service opportunities.
When a customer has an issue with your product or service, they may be more likely to reach out on social media than to call the company directly or submit a complaint through its website. Here are some tips for providing outstanding customer service on social media:
Be responsive.

As soon as you see a question or comment from a customer, respond to them as quickly as possible. The faster you respond, the better the odds they'll be satisfied with your response and won't escalate their complaint any further.

Be helpful and proactive.

Your ability to help customers goes beyond just answering their questions; sometimes it means anticipating their needs before they even ask for them! For example, offer to credit their account with $10 for their troubles.

Respond to positive comments and reviews, too.

This shows you're listening and you're grateful for your customers.

Use technology to help you manage the process.

Rallio's dashboard pulls in comments and reviews and allows you to respond to them directly.
Related: Responding to Online Reviews in 3 Easy Steps
Checklist: Create a Balanced Mix of Content for Your Brand
Your social media content mix is the combination of different types of posts you share on your social profiles. It's important to have a good balance to reach your audience with the right type of content at the right time. To create a balanced mix, make sure you've checked off the items on this list so you know what type of customer you're trying to reach. This list will also help you with creating targeted ads.
? Identify audience demographics such as age range and geographic location
? Develop messaging that this audience will find relatable and authentic
? Determine which social media platforms your audience uses the most
? Take photos throughout your location of team members, customers, products, etc.
? Film four or five short videos to use throughout the month 
? Gather customer testimonials
? Create a content calendar that includes key holidays and events
? Identify two dates per month when you will go "live" with your audience
? Create four different Instagram Reels and/or Stories
? Curate four different inspirational quotes that will resonate with your audience
Here are some questions to ask yourself as you go through the checklist:
What are your business goals?

What do you want people to do after they see your post — i.e., what's your call to action? Buy something? Sign up for a newsletter? Share it on their profiles? Whatever it is, make sure this is clear in every piece of content you create so that you can measure success.

Are there any key performance indicators (KPIs) you'd like to use to evaluate success?

Is there someone on your team you can rely on to be a dedicated social media manager, or do you need to outsource your social media management? At a minimum, having someone who can take photos will help you stay on track.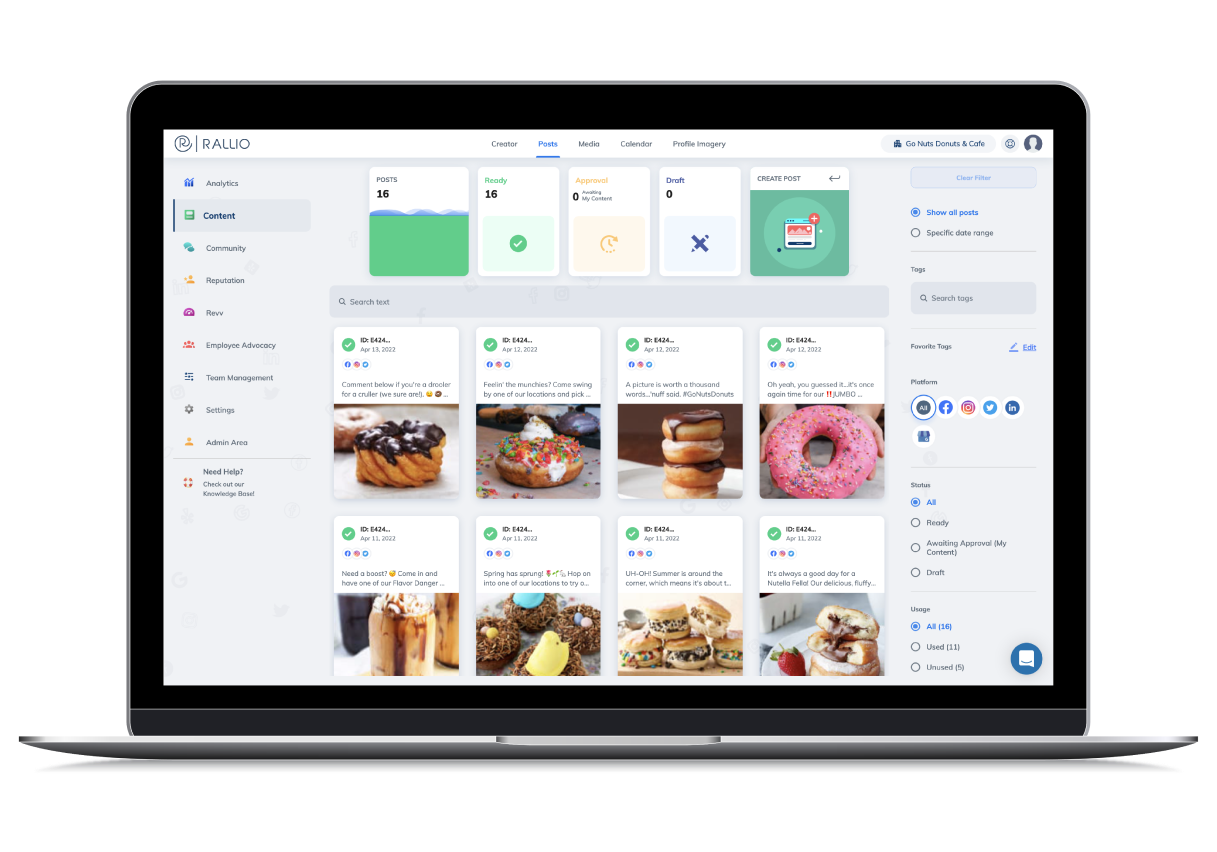 Tool: Get Organized With the Rallio Dashboard 
Rallio's social media dashboard is a great tool for managing your business's social media accounts. The dashboard allows you to schedule posts across platforms, view analytics, engage employees in advocacy, respond to reviews and comments, and monitor what's going on with your brand — all with a single login. Easily monitor your follower growth and engagement rates, as well as view detailed analytics for each post. If your business has multiple locations, Rallio allows you to schedule and syndicate content across locations.
Our dashboard is a powerful tool that helps you get organized with your social media marketing and can help you uplevel your efforts. You'll spend less time trying to organize your efforts, leaving you more time to engage with your followers, and focus on your business. Here's how:
Activate Rallio's Local Tech and Local Team to ignite the engagement of your local pages. 

Engage REVV, our reputation management app, to add massive numbers of positive reviews to your online reputation. 

Finally, use our local listings management solution to maintain consistent location data across the web and give Google confidence to list your locations at the top of the search results.
It's the ultimate solution to maximize your local social media engagement and improve your local search results. Ask us about the details, bundled pricing solutions, and case studies to prove the measurable results.
Video: Increase Exposure With Both Paid and Organic Posts 
There are two main ways to increase your exposure on social media: paid and organic posts. What's the difference between the two? Organic posts are posts that are shared by users who see your post and decide they like it enough to engage with it or share it with their friends or followers. Paid posts are ads that pop up on someone's screen when they're browsing Facebook or Instagram and may include both boosted and sponsored posts.
Paid Posts
Paid posts are the easiest way to get more exposure for your business on social media. You have two options when purchasing paid posts: boosted posts and ads. A boosted post is simply a regular post for which you pay to increase its exposure, while an ad is a completely separate piece of content that uniquely promotes your brand and requires an Ads Manager account connected with your business page. Both can be used to promote your business and website, but they're different enough that you should consider using both if possible.
Organic Posts
Organic posts are free but take a lot more time and effort to create than boosted posts do. However, they can help build credibility with followers by showing them that you care about their interests and opinions — even if they don't always respond or share what you post. You can also increase your reach with organic posts by engaging employee advocates; Rallio enables you to provide limited logins to employees on your team so they can upload and share more content.
Start Using Your Toolkit Today
The future of social media is interwoven into the fabric of our society and will continue to grow and expand. As such, you must investigate and adopt new tools and tactics to keep up with these changes. Social media marketing requires that you become a curator for all social networks, using social listening and insights to keep current, enhancing your content with multimedia and live-streaming, as well as engaging your customers in fresh ways. Hopefully, this toolkit has provided you with some practical tips for getting the most out of your social media engagement and taking your marketing to the next level.