Want to Save Your Reputation? Look at Local Social Media Pages
At Rallio, we meet with corporate offices that have a varied number of locations (or franchisees, agents, offices and so forth) under them. Many of them understand how essential local pages are to their business, but for others, the idea of monitoring and managing that many location pages seems out of the question. For brands with thousands of locations, monitoring triple or quadruple that number of unique social media pages isn't possible.
How it feels sometimes
So often the solution is to claim the pages, brand them with the right cover and profile imagery, make sure the address and hours open are correct, and then leave them alone. No content gets posted to these vacant local pages, and no one monitors the reviews. If you can direct people to leave their complaints or reviews on the main brand page, then monitoring the brand page solves your engagement and reputation management problem.
But people don't only want to review the brand. They want to review the individual store and their experience there. And if no one actively monitors those thousands of store pages, negative customer experiences can fall through the cracks.
Take a recent example from Zales.
Back in May, Amy Bassett had a poor experience with a Zales location in Modesto, California. She left a negative review on the store's Facebook page and shared her experience up until then. Amy explained how she had tried to connect with the store over the past few weeks, how the correct product wasn't returned to her, and how she would be following up the next day.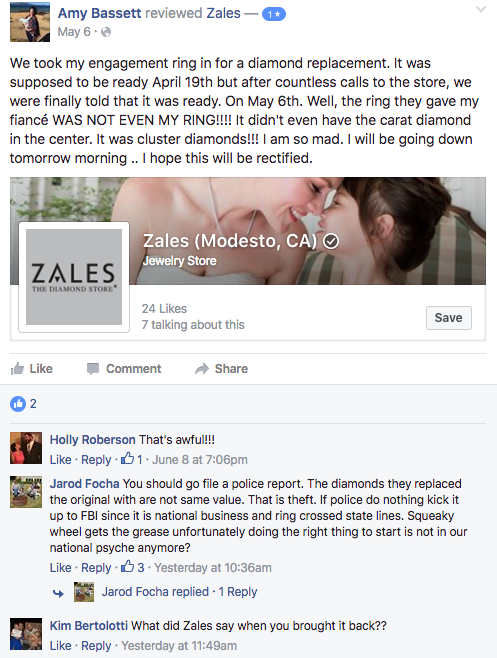 Her 1-star review of the Zales location reached a few of her friends in her newsfeed who left supportive comments, but didn't make a large impact on the page. Granted, the 1-star review dropped the location's overall review a bit. However, the page had only 24 likes and 90 check-ins, so Amy's review stayed relatively quiet.
Fast forward a month.
I'm scrolling through my newsfeed, and I come across an image someone shared of two rings side-by-side. Attached there's a long description of a customer who had a very negative experience with a Zales store in Modesto where the wrong ring was returned to her. It's also the same Amy Bassett who left the review on the local page and has tagged the Zales corporate page in her post.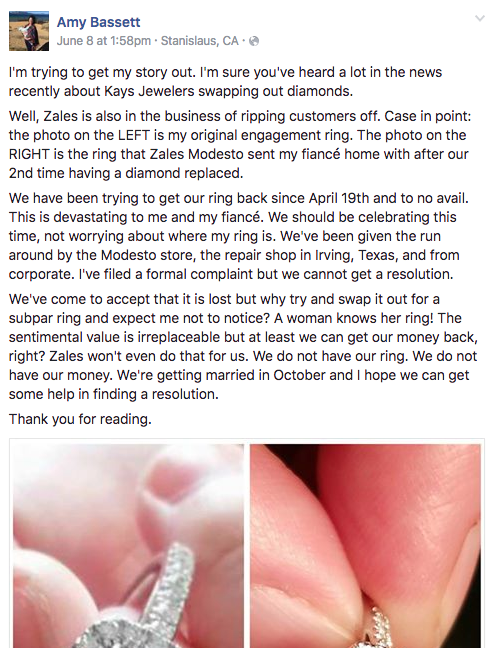 And it has over 10,000 shares.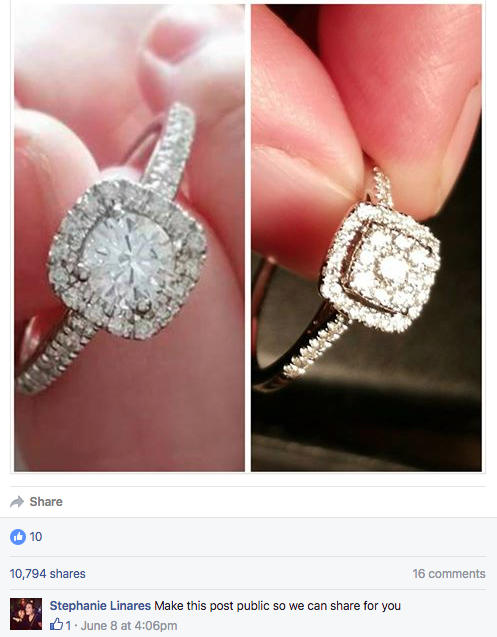 With 338 being the average number of Facebook friends people have, that means over 3.6 million people could have seen that complaint.*
Now I'm not sharing this story to bash Zales in their monitoring or responses. With the current best practices most marketers recommend and the software previously available, there has been no way to monitor that many review sites without an inconceivable amount of time and money. And since so many brands don't have the resources to give their local pages the same attention as their brand page, this situation could happen to any brand.
In fact, it may be a ticking time bomb for many brands right now. And they just don't know it.
We know how important it is to respond quickly to unhappy customers and have your finger on the pulse of your entire brand all the way down to the store experience. We're working hard to solve that local monitoring problem so brand managers can know about every review left on online review sites.
Because while only managing the corporate pages has been a solid strategy, businesses finally have a way to monitor and engage on their location pages quickly, intelligently and simply. Before it escalates, an unpleasant experience can be turned around for the customer at the local level as well as the corporate level.
---
When was the last time you looked at the reviews, tips and comments people were leaving on your hundreds or thousands of unique location pages? And how are you monitoring your local social media pages to respond to reviews, comments and questions? Let me know in the comments.
Update: Both the original review and the viral post have been deleted.