Social Media Terms Your Company Should Know
Social media has a language of its own, and being able to speak it fluently is critical to any business's success today. From basic terms such as "comment" and "like" to the more complex "handle," there is an endless number of terms to know.
Today, I'll go over some of the top terms you should know as a business owner or a social media marketer. I can't cover all of them, because by the time I'm done writing this, no doubt there will be new terms to know, while others inch toward being obsolete. Your best bet is to be a regular consumer of all things social, so you'll always know what's trending and what's on its way out.
I've included the major platforms, all of which can be connected and managed within the Rallio app (our Instagram functionality is in its final development stages as of this writing). Watch for my next post where I'll cover some of the other platforms, such as Pinterest, Snapchat and Tumblr.
Common General Terms Across Platforms
Comment: A response to your post from a reader. In most cases, comments appear below a post. On Twitter, however, comments appear in the form of a "reply" or a "retweet" and don't all appear together as they would on Facebook or Instagram.
Follow/Followers: Click the "follow" button, and you'll receive regular updates on that user or business in your feed. Once you subscribe to someone, that makes you that person's follower! The more followers you have, of course, the better.
Handle: Your username, preceded by "@" and used on Twitter, Instagram and Snapchat. You can also type it on Facebook to tag a friend or a page in a post. Keep it consistent across platforms so people can find you easily.
Hashtag: A word or a phrase preceded by "#" with no spaces or unique characters. As I note in this post, you can use hashtags as conversation starters or search terms around topics of relevance to your brand. They're primarily used on Twitter and Instagram.
Like: This feature appears differently depending on the platform. It's simply a way for users to indicate they like your post. On Facebook, in addition to the "like" button, there's a range of options on how users may choose to react to your post, including buttons for "love," "haha" and "angry." On Twitter and Instagram, there's just a heart.
Mention/Tag: On Twitter, you can "mention" another user by placing an "@" before the username. Same thing on Instagram, though it's commonly referred to as a "tag" rather than a mention. On Facebook, you would simply type the person's name to tag that person. Whatever you call it, it's a great way to thank your followers, call their attention to content of interest and attract new followers, too.
Newsfeed: The homepage of a platform where you'll see a stream of updates from anyone you follow.
Post: Content that's created by an account, including status updates, photos, videos and links. At the end of this section, you'll see an example of a @rallioHQ Twitter post where we repurposed content from a previous blog post.
Profile: A user's "homepage," including descriptive information such as name, username, bio, occupation and any blogs or other websites, plus a photo of the user. It's also a "command central" of sorts where users control privacy settings, account information and other details visible only to the user.
Day 28: Recommend a colleague from LinkedIn https://t.co/LULBdAxXin pic.twitter.com/0E1VQY982v

— Rallio (@rallioHQ) March 27, 2017
Facebook Terms
Business Page: Separate from your personal Facebook profile, a business page is where you post photos, videos, links and events related to your brand. You will need a personal Facebook profile to have and operate a business page. It's important to claim and create your business page so people have a place to engage with you and, if you have a physical location, to "check in" at your place of business (see "Check in" below). Go here for help creating your Facebook page, or drop us a line with any questions at hello@www.rallio.com.
Check in: When posting, users can "check in" to a physical location using this button. It's great for your business when users check in, because it alerts their friends about your business. Hello, free advertising!
Facebook Ads: Facebook allows business users to create ads promoting their pages, events, products and so forth. These ads are a cost-effective way to get your brand in front of more people and potentially increase sales. Here's some help from Facebook in that department, and again, ask us at Rallio if you have any questions. We regularly help our clients set up and manage ad campaigns for their business pages.
Facebook Event: From your business page, you can create in-person and virtual "events" for your brand. They're essentially like digital invitations. Say, for instance, you're a yoga studio hosting a special prenatal yoga class. You can create an event from your page with the date, time and place, and then invite your followers and friends to the event/class.
[bctt tweet="#Facebook Events are essentially like digital invitations." username="rallioHQ"]
Facebook Live: If you're hosting an event or just have an important update or message for your followers, you can broadcast live and connect with your followers in real time.
Facebook Stories: Accessible within the Facebook app, this new feature from Facebook allows users to share real-time updates within the span of 24 hours, featuring short video clips and photos. Unlike a typical Facebook post, stories disappear after 24 hours.
Share: This button appears beneath a post and allows users to share the content on their own pages for their followers to see. For example, clicking the "Share" button below provides users with the option to share the post in various places, such as on their own timeline or on a page they manage.
Instagram Terms
Caption: A short description or comment about a photo or a video you're posting. It includes hashtags and, in some cases, you may choose to tag other users' handles.
Direct Message/DM: A private message between users that only those users can see. It goes into an inbox, accessible from your homepage in the app.
Filter: When creating posts, you can access various filters that allow you to change the appearance of photos, such as the lighting or coloring.
Live: Similar to Facebook Live, the Live feature on Instagram lets you broadcast real-time updates to your followers. Instagram will send out a notification to your followers that you've started a live video so they can log in and view it before it ends, making it a great way to capture your audience's attention.
[bctt tweet="Go Live on #Instagram to capture your audience's attention in real time. #socialmedia" username="rallioHQ"]
Public/Private Account: Users may choose to make their profiles private or public. With a public account, anyone can follow the profile and view its photos and videos. If an account is private, users must request permission to follow the account before they can view any content.
Repost: A repost of someone else's post on your Instagram page. You can use an app like Repost, or request permission to repost a user's photo and then tag the user. See the example at the end of this section.
Boomerang: A video app to turn regular videos into gif-like looping videos, capturing a moment in time and then playing it over and over again. The feature is built in as an option within Instagram's Stories feature, described below. It works great for action shots. Here's more on Boomerang, but give it a try yourself. You have to see it to understand how fun it is!
Sponsored Content: Content with paid advertising dollars behind it. Again, a great way to extend your reach.
Stories: As with Facebook Stories, Instagram Stories let you build a "story" over 24 hours with photos and videos.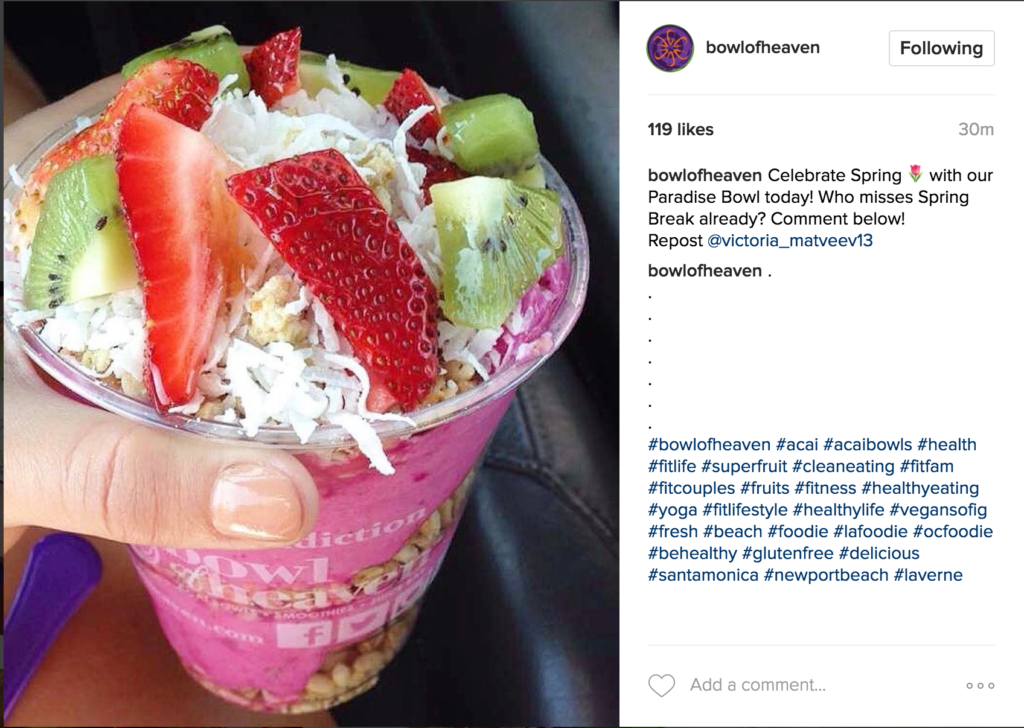 LinkedIn Terms
Company Page: Here's where you create an overview of your business and share articles, photos and updates. Your updates show up in followers' news feeds.
Showcase Page: An extension of your Company Page where you can spotlight your brand, a business unit or an initiative. You can then share the Showcase Page content with a targeted audience and build engagement with like-minded LinkedIn members.
Connections: The people with whom you are connected on LinkedIn. Connections are like your "friends" on Facebook, and you have to request to be connected with a user (known as an "invitation," below).
Groups: Groups are created either by a person or by a company around a specific topic or industry. Once you've created a company page, you can join various groups and interact with other users to build more connections.
Invitation: An invitation is simply a request to connect with someone on LinkedIn.
My Network: Click this tab at the top of your LinkedIn homepage to view your connections, invitations and people you may know. You can also have your email address book imported to see additional suggested users with whom to connect.
Twitter Terms
Tweet: The 140-characters-or-less post you create on Twitter. It's also used as a verb, as in, "I like to tweet out a new promotion every couple of weeks."
Character Count: Twitter is known for limiting its posts to 140 characters. That means whatever you have to say needs to be short and sweet.
Direct Message/DM: Messages communicated between users directly within the app. Users can set up their privacy controls either to receive direct messages from anyone, or only from those they follow.
Moments: Curated stories that showcase the best, most relevant posts around a trending topic. Click the Moments tab to discover what's happening on Twitter or to create a Moment of your own.
Retweet/RT: Clicking this button allows users to share another user's post with their own followers. The more people retweet your content, the greater your reach and potential for new followers. In addition to retweeting other users' content, you can ask for retweets on your content, too. Pair it with a contest or a giveaway as an added incentive. See the example at the end of this section.
Trends: From the homepage on Twitter, look in the lefthand column, and you'll see a list of trending hashtags and topics. Click on any of them to say what people are saying, and then jump in and like, retweet, or create tweets of your own where you include the trend. Be sure you understand the context of the trend so you can be on point with your tweets.
The first pitch of 2017!

Give this a RT and we'll pick someone at random to win a voucher for two Phillies tickets! pic.twitter.com/cQ8J2cNjUP

— NBC Sports Philadelphia (@NBCSPhilly) April 3, 2017
---
Phew, that was a lot of terminology to get through, and I have only just scratched the surface here. What are some of your other favorite social media terms that are important to know? Comment below!