4 Steps to Measure Social Media Success
This much we know: Social media is no longer simply a "nice to have" in your business marketing plan. Your audience is already online, checking out your social profiles and online reviews, as well as conducting mobile searches for nearby businesses. You either ramp up your social presence or get left behind by your competition.
You get it. Other marketers get it. According to one survey of CMOs, marketers said they are spending 12% of their marketing budgets on social — a number that's expected to rise 20% in the next five years.
What's not so clear is how to justify the spend on social media marketing. The survey also notes that 44% of those same CMOs say they haven't been able to measure the impact of social on their business. Although it's simple enough to track followers, likes, shares and engagement, it's not quite as easy to equate those numbers with sales or other metrics of success.
Before you throw your hands in the air and think social media isn't working for you — or, on the flipside, that it is working just because you have a large number of followers — take a deep breath. Know that there are ways to measure your social media success, and you can start today — even if you're among the 44% of marketers feeling cloudy about the kind of impact you're having on social media. Read on for four steps to measure the effectiveness of your social campaigns.
Step 1: Define ROI

To measure your social media marketing success, you'll need to do two things:
Define your goals and tie them to outcomes. Your returns are the various outcomes that you determine are necessary for your brand.
Identify what exactly your investment is, aka your budget you wish to spend overall and for each initiative. You dedicate time, resources and dollars toward social media — that's your investment.
Together, your investment and the resulting returns (or outcomes) are your ROI. Some possible goals with desired outcomes and investment options include: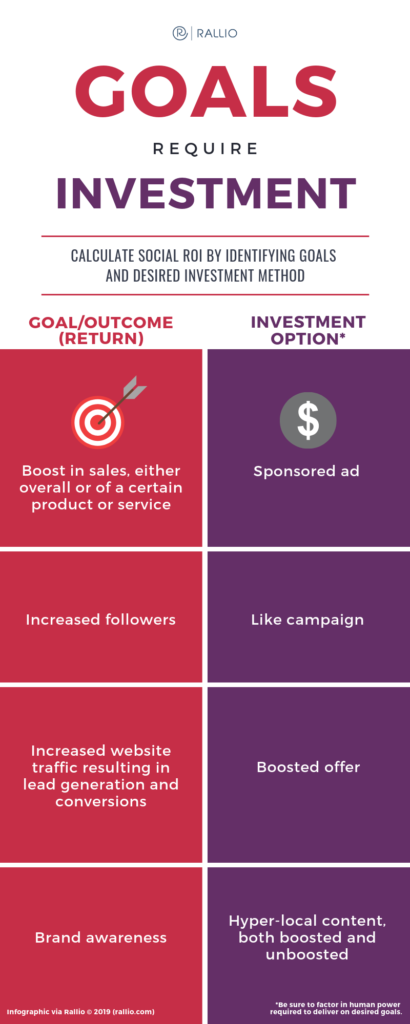 Your goals can vary based on any particular campaign, its platform and its associated budget. Some outcomes can be clearly measured in terms of money, such as an ad campaign that ties directly to an offer (more on this in Step 3). Others, like brand awareness, are more difficult to quantify but are still important to your overall marketing plan. The value of outcomes will need to be defined according to your unique business, leading us to Step 2.
Step 2: Assign a Value to These Goals
Let's look at a hypothetical example to estimate the value of your outcomes. Imagine one customer is worth $100 monthly (you can insert whatever numbers are meaningful to you here, such as the lifetime value of a customer, or the average value of a purchase as a result of seeing an ad). Then you'll compare that value against the social media marketing costs associated with lead generation through social.
Use the following formula to calculate ROI: return minus investment, divided by investment, expressed as a percentage. In the example above, let's say you spend $100 on social media marketing in a month, including the time, resources and ad spend needed, and then you get 10 customers who made a purchase, totaling $1,000 in value.
$1,000 – $100 = $900
$900 / $100 = 9
9 x 100% = 900%
In this case, your return is 900%, which is a great return. You would probably want to repeat the same efforts, maybe even increase your spend, but again you have to look at how all your efforts are working overall and consider all angles. For example, what is your average close ratio when you talk to prospects non-digitally? Establish a "social close ratio." How many engagements do you need to earn every day that equate to one engaged follower? How many engaged followers do you need to impact your bottom line?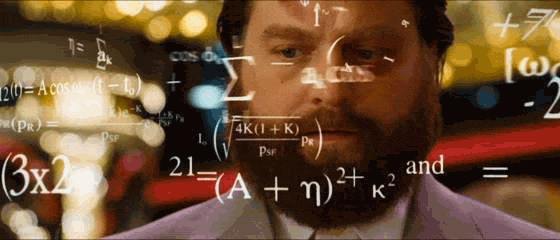 Step 3: Continually Monitor Your Analytics
Your Facebook or Instagram promotion insights and Rallio dashboard give you a detailed view of post reach, post engagements, page followers and more, including both organic and paid efforts. While it's easy to get overwhelmed by the many types of metrics available to track, you have to pick and choose which ones are meaningful based on your goals. For instance, if your goal is brand awareness, you might look at an increase in followers and engagement as an indication of growth. Other campaigns can be more easily attached to sales, such as boosted special offers that include unique tracking codes or those that incorporate Facebook Messenger as a sales tool.
For example, recently I saw an ad on Facebook for a buy one, get one free pizza at a local pizza place. I clicked the button to get the offer, and I received the offer as an auto-respond in my Messenger. The message invited me to opt in to email by replying back to the message. It also included details about any exclusions, participating locations and the expiration date. Best of all, when I use this offer, the server is supposed to click the "redeem" button in my Messenger app. How's that for tracking ROI?

Not only did I request the special offer, but I agreed to ongoing communications from the restaurant by opting in to email. Before I have even set foot in the door, they've got my email address and have given me a reason to visit: free pizza!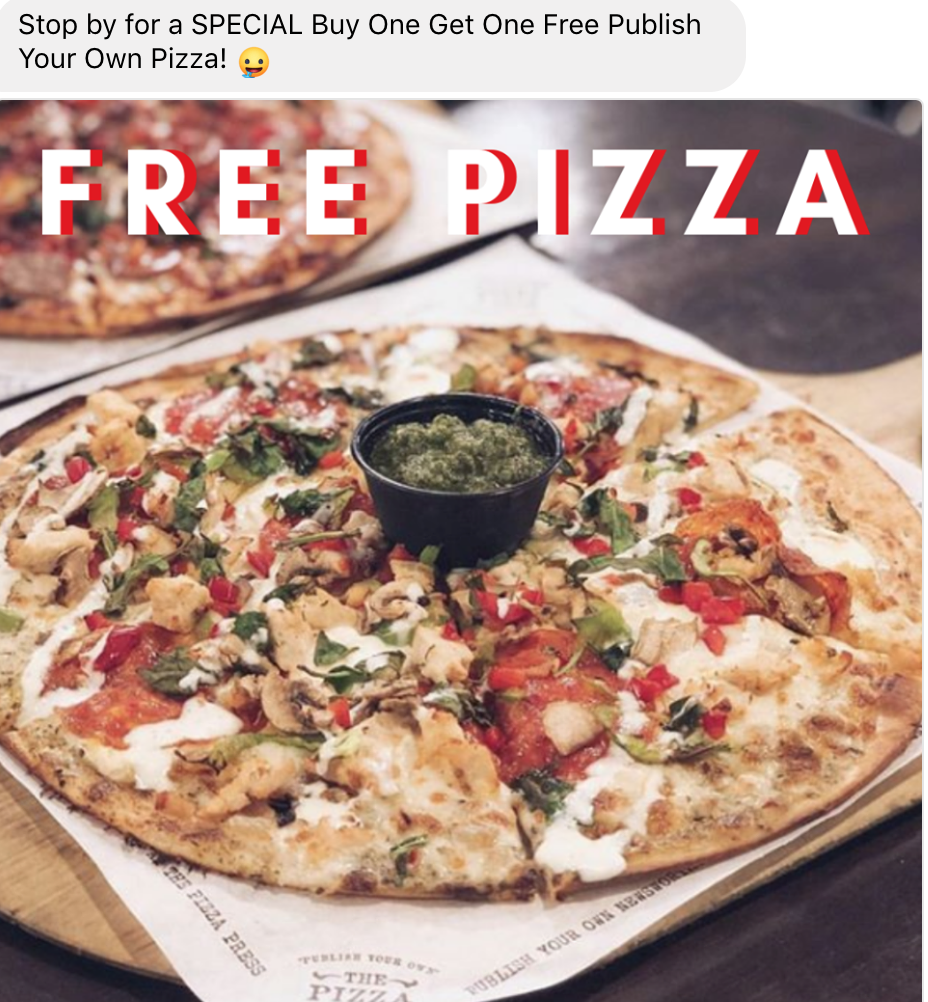 As a side note, in this article, I discuss Messenger as being a major tech trend for franchise locations to utilize this year. With the hyper-local targeting you can implement with boosted ads, you can send out special offers that get seen by people in your community and contribute directly to your ROI.

Step 4: Adjust as Needed

What works on one platform or for one goal isn't always going to be the same. It's important to continually check your ROI so you know what's working and what isn't — and then adjust your strategy accordingly. Understand, too, that certain goals take longer than others. It could take several weeks to grow your following, while an ad campaign might last just a few days and can be easily measured afterward.
Your goals should be working together all the time to produce the outcomes you want. Understand, too, that you can't always see the direct path from prospect to conversion — for instance, a new follower or a comment can't necessarily be tied to a sale. However, the only way to start converting prospects to customers is by getting in front of them every chance you get — through social media, through building a local community, through paid boosting of your content, and through creating confidence and loyalty in your brand.

Over time, you'll learn which campaigns work best and which areas deserve the most investment. The key is to have a robust online presence, combining both organic and paid efforts, that shows people you are a trusted brand. This way, when they do come across your page, they'll want to buy from you — whether now or after the 10th or 100th time they see you. Keep tracking your efforts and investing, and you'll see the returns in time.