Best CEO? Yeah, We've Got That
As Rallio's first employee, I've had the pleasure of working with our CEO, Chuck Goetschel, for over six years. What began as a side hustle turned into a full-time hustle, and we've gone from sitting on cardboard boxes in a shoebox-size office to enjoying the twists and turns of a rapidly growing enterprise located in the heart of Orange County.
Yesterday, I also had the pleasure of announcing that Chuck has earned a Best CEO award from Comparably.com, a compensation, culture and career website, in its annual Best Places to Work ranking of CEOs and their companies.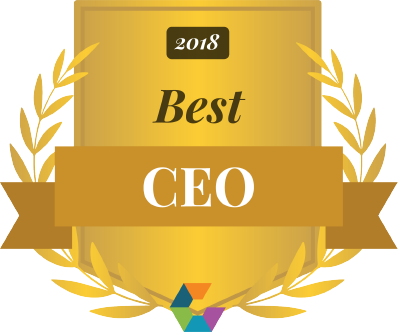 Comparably Awards are based on sentiment ratings from employee participants who anonymously rate their employers. Following the year-long eligibility period that ended in November 2018, the best CEOs were identified based on approval ratings that employees gave their chief executives.
All questions were assigned a numerical score and then compared to companies of similar size across the United States. Additional weight was given to scores at companies with more participation from their employee base. The final data set was compiled from nearly 10 million ratings across 50,000 U.S. companies on Comparably.com.
Among small and mid-size companies — those with fewer than 500 employees — Goetschel earned a score of 99/100, placing Rallio in the top 5 percent of U.S. companies with 11 to 50 employees and in the top 5 percent of other companies in Los Angeles. "The most successful businesses are led by amazing CEOs who serve as a visionary, positive example and support system for their teams," said Jason Nazar, Comparably CEO. "The chief executives on Comparably's Best CEOs list were the highest rated by employees for their inspiring, transparent, and engaging leadership."
@rallioHQ congrats on having @ChuckGoetschel named on @Comparably's Top 50 list for Best CEOs in 2018, as rated by your employees. You're also featured in @USAtoday

You have fantastic scores from your team – https://t.co/chP7lFvcv5

— Comparably (@Comparably) December 11, 2018

In response to earning the Best CEO distinction, Goetschel was quick to point to his team. "This award speaks volumes about the talented team and creative, inspiring culture we've created together at Rallio," said Goetschel, who is also an author and a speaker. "Just as we strive to provide the best products and services for our clientele, we are dedicated to building an elite workforce with a focus on innovation, teamwork, and a sense of purpose and ownership in our work."
@ChuckGoetschel @rallioHQ congrats on being named one of Best CEOs in the US in 2018 as rated by your own employees on @Comparably

Fantastic scores from your team – https://t.co/X1j5RXwPXA

You're featured in @USAtodayhttps://t.co/zneEdfLl6n

— Jason Nazar (@jasonnazar) December 11, 2018

Rallio recently rebranded with a new logo reflecting its mission of "rallying" around brands to help them build a local community, share experiences and drive local business through social media. The profitable SaaS company more than doubled its staff headcount in the past year and is poised for rapid growth in 2018.
In September 2018, Rallio was named one of three top finalists at the OCTANe High Tech Innovation Awards competition for Outstanding Emerging Technology. In addition, Rallio earned a spot in the inaugural ranking of Top Franchise Suppliers by Entrepreneur magazine. This ranking put Rallio in an elite position in its space as determined by Entrepreneur, identifying the companies that provide behind-the-scenes support for franchisors and their franchisees.
[bctt tweet="ICYMI: Read the USA Today article about the Comparably winners https://www.usatoday.com/story/money/business/2018/12/11/microsoft-ceo-satya-nadella-ranked-best-leader-us-comparably/2206490002/?fbclid=IwAR2XsrmPVzV_BZp0zF3DVzRVHGhdENnAYqYFELglQmaK8y5yRksgEb0twTg" username="rallioHQ"]
---
Rallio has an undisclosed number of investment dollars from various private venture capitalists and angel investors. For more information or to arrange an interview with Goetschel, contact Karen Spaeder, Vice President of Communications, at karen@www.rallio.com. For product and service inquiries, contact Ryan Hicks, Vice President of Business Development, at ryanh@www.rallio.com. The full release about Rallio's Comparably award is available here.