Top 3 Summertime Social Media Tips for Franchises
Ah, summer. While the rest of the world is busy enjoying ice cream, swim parties and vacations, you still have a business to run — but that doesn't mean you can't enjoy your summer, too. Summer is the perfect time to have some fun with your social media. If you implement a few best practices, you'll have enough time to go enjoy an ice cream, too.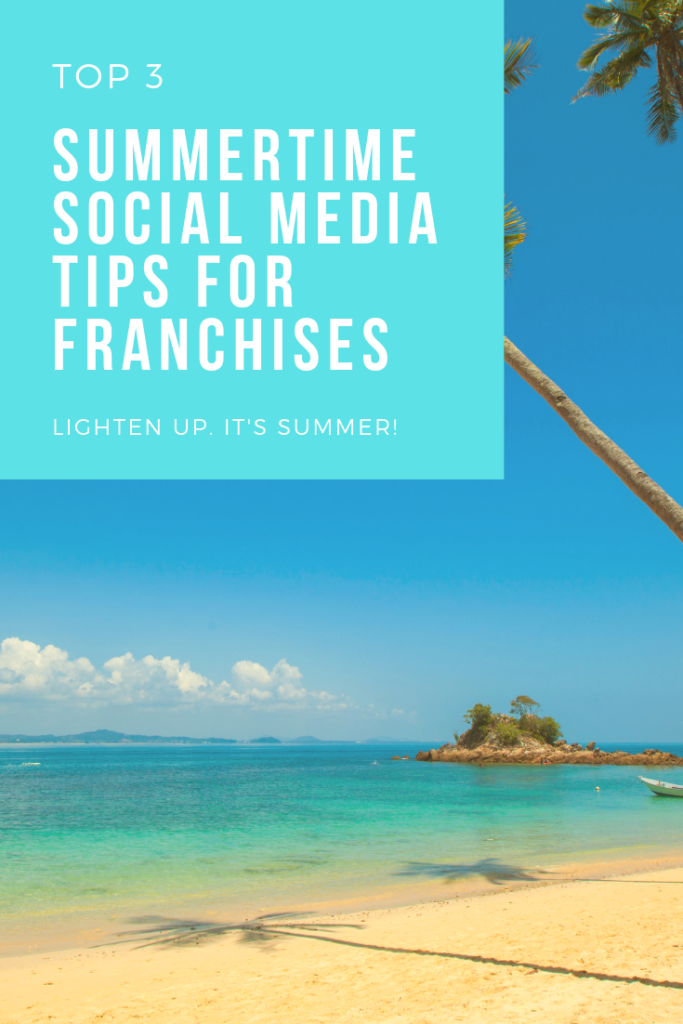 Tip #1: Get In Step With Your Audience
Depending on the type of business you have, your sales either ramp up or slow down in the summer, or maybe they stay fairly consistent. Make sure you understand the pace at which your audience operates in summertime so you can adjust your social media accordingly.
For example, let's say your audience is mainly moms who stay home with their kids during the summer. In this case, their social media usage habits might shift as they adopt a different routine. Consider the following:
Maybe they're not posting to or checking Facebook or Instagram quite as frequently during the day. Or maybe it's the other way around. Check your analytics to understand when they are most active.
If they're out and about during the day, maybe they're looking for a business like yours, using their mobile devices to search. The "near me" searches they're conducting are opportunities to drive online and offline traffic to your business. Make sure you have a Google My Business page created for your business and optimized for local search. Check and respond to your online reviews so that as you're discovered in search, customers see positive reviews and a responsive business owner. Read this post for more information on setting up your Google My Business listing.
Look for ways to draw business into your location with summertime sales, offers and events that you promote on social media. Tie it in with summer holidays such as 4th of July, or in conjunction with upcoming events, like back-to-school. Boost your content and don't forget to include hashtags to make your content searchable.
Tip #2: Warm Up Your Social Content
If you haven't updated your content since wintertime, it's time to freshen things up for summer. A few ideas:
Cover Photos and Highlights
Update your cover photos with a summery image related to your business. Your cover photo is often the first thing people see when they land on your Facebook, Twitter or LinkedIn page.
On Instagram, you can update the Highlight cover photos with a summer theme. Highlight covers are the small icons beneath your bio where you've highlighted your Stories.
There are many different free apps that will let you create fun, summery covers for your best Story highlights. On that note, be sure to update your Stories regularly with local content that keeps your audience up-to-date on all your summertime events, sales, specials and behind-the-scenes happenings!
Localized Content
Focus on posting local content with a summertime flair! Make your content specific to your location to build local community, and boost any posts that get great engagement. The more hyperlocal your content is — whether in summer or anytime of year — the better your chances of earning local business.
For example, snap outdoor photos and videos with your team. Feature your team members enjoying a day at the park, the beach or the pool. Give a glimpse of what happens behind the scenes.
You can also post photos and videos of your product or service being used outdoors or in a way that evokes feelings of summer. Ask your users to post their own content showing how they enjoy your products or services during the summertime — or ask for permission to snap photos of your customers.
This post from our client Pet Supplies Plus in Adrian, Michigan, featured a customer with his St. Bernard puppy. It got great engagement and included hashtags to make the content more discoverable: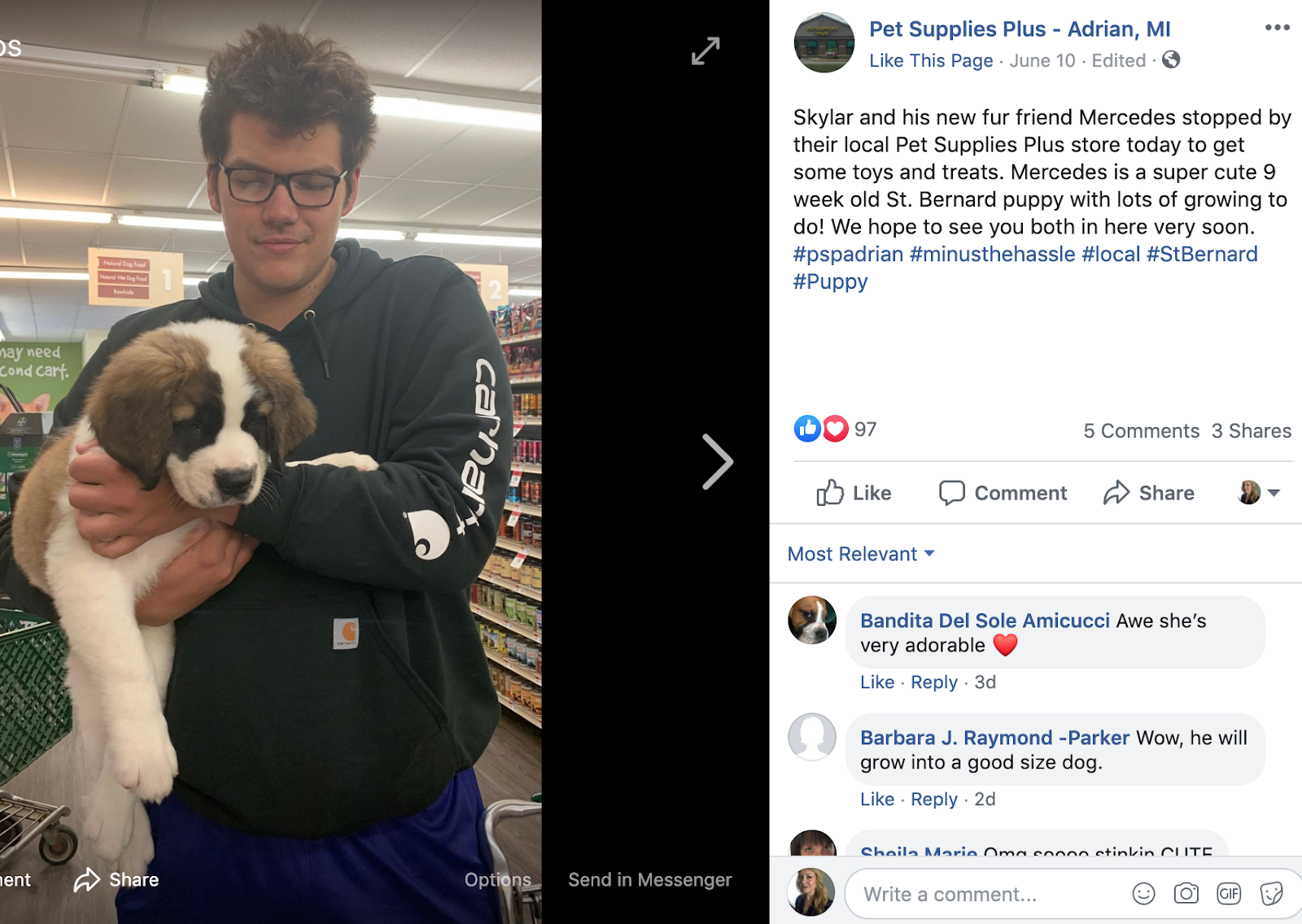 Tip #3: Invite User-Generated Content
User-generated content (UGC) is one of the easiest ways to generate engagement and excitement around your brand without you having to do much. Invite your audience to post their own selfies and other photos showing how they're enjoying your product or service in the summertime.
Further the engagement by asking them to like, share, tag a friend and tag your brand as they post. Add your own branded hashtag, and perhaps incentivize your campaign with some kind of reward. Be sure to thank your followers publicly for participating!
Another idea is to recruit employees and influencers who can help tell your brand's story. They'll post to their own social profiles for their followers and expose your brand to a wider audience. According to research conducted by earned content platform Olapic, 76 percent of survey respondents said they are more likely to trust content shared by fellow consumers over content shared by brands.
A fun summertime influencer campaign might include a "Story takeover" where your influencer posts a "day in the life" to your Stories.
Here's a great example from swimwear and undergarment retailer Aerie. The post features blogger and influencer @AliciaTenise wearing Aerie swimwear and promoting her Story takeover, where she'd be wearing all her Aerie faves. The post also invites UGC by asking users to post their own favorites using the hashtag #MyAerie.
Bonus Tip #4: Have Fun and Be Authentic
Hopefully, you're not spending all of your time working this summer. As you're out enjoying your life, share glimpses of it with your followers. Keep your content fun, light and uplifting. If it entertains, it's post-worthy.