6 Powerful Benefits of a Business Instagram Account
There was a time when all Instagram accounts essentially had the same functionality. There was no "personal" versus "business Instagram."
Back in the day, everyone had a personal Instagram profile with a name and a bio. At the risk of sounding like your grandparents, we've got to tell you: Times have changed.
Today, you have a choice between a personal and business or "creator" Instagram account (which is similar to a business Instagram, with added features designed for influencers, content creators and public figures).
And the possibilities are now endless.
While many brands and influencers have changed over to a business Instagram, others aren't so quick to make the switch. What gives?
If you don't spend a lot of time on Instagram — or if you're perfectly happy with your personal account — you might not immediately understand the benefits of switching to a business Instagram. However, when you consider the many opportunities available to you as a business account, you might change your mind.
Whether you're a startup business or an established brand, a mega corporation or a micro-influencer, there's much to be gained from a business Instagram account. Take a look at 6 powerful benefits below.
Read more: How to Do a Social Media SWOT Analysis and Amplify Your Results

You Instantly Look More Professional With a Business Instagram Account
If you compare a personal and business Instagram account side-by-side, you'll notice some key differences right away.
Personal account:

You can display your name, username, website and bio. Other information is private.

Business Instagram:

In addition to the above, you can display public business information such as the business category, additional contact options, and action buttons like "Order Food" and "Gift Cards."
Having your contact information front and center gives you a more polished look and instills trust in your audience. It also makes it easier for people to get in touch with you — always a good thing in the world of fleeting attention spans on social media.
You Can Access Ad Tools and Analytics
One of the hugest benefits of a business Instagram account is the ability to run ads. (Note that you need to make sure you have a Facebook business page and attach your Instagram to it, because Instagram ads are created through Facebook's ads manager. We recommend reading through Facebook's how-to guide, Create an Instagram Business Account, for all the steps needed to get up and running.)
By running paid ads, you'll be able to grow your following and extend your reach. With ads both within feeds and in Stories, you'll be able to create highly targeted ads that expose your brand to your desired audience.
When you switch to a business Instagram, you also gain access to insights you wouldn't have with a personal account. Simply tap on the Insights tab from your account dashboard to view your most recent activity.
From there, you can see how your paid ads are performing and also view post performance, post engagement and audience insights.
With your Rallio Dashboard, you can access even more robust analytics. Go to rallio.com to explore your options.
Read more: Top 5 Reasons Rallio Is a Top Franchise Supplier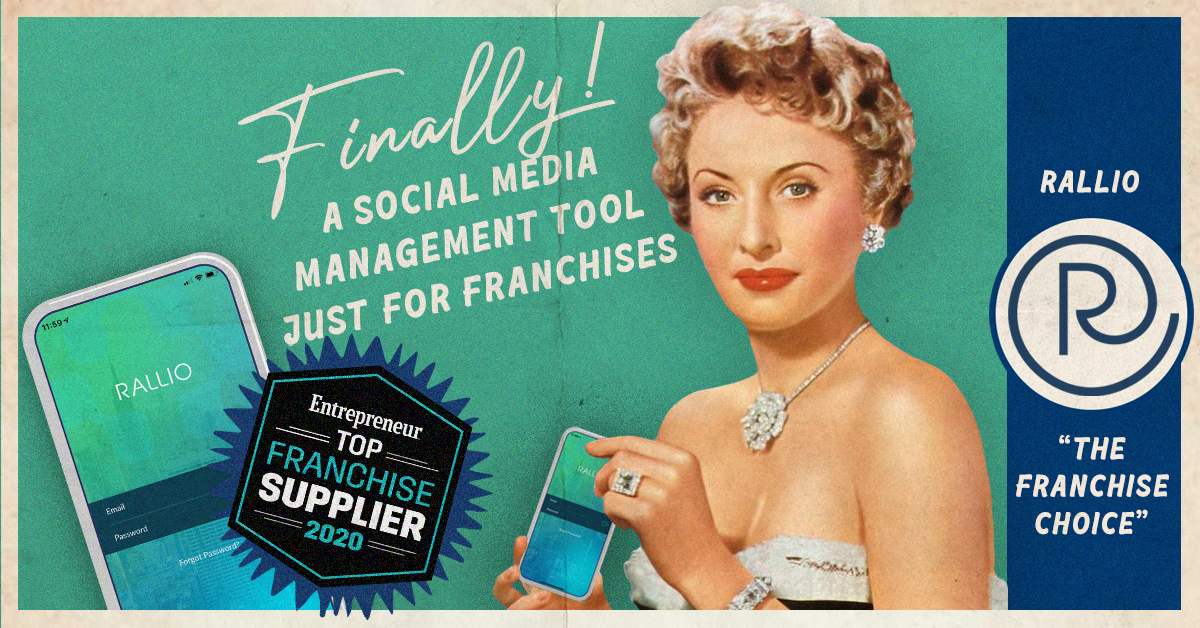 You Can Link From Stories
If you have a personal account and want to send your audience to a certain website, you can't simply type out a tappable URL within a post. Instagram won't hyperlink to the website the way it would on other social media platforms. To link directly to a post, you would need to add the link to your bio (hence the phrase "link in bio").
Of course, business Instagram accounts can link to a post this way, too, and it's not a bad idea to include an important link in your bio. However, your business Instagram gives you other options, too.
For business accounts with 10,000 followers or more, you gain access to swipe-up options within Instagram Stories. This means users can swipe up within a Story to go directly to a link of your choosing.
Story links are a great way to send your audience directly to a certain link — such as special promotions or new products. Without it, you risk losing out on link clicks from people who don't want to take the time to click away from your Story and head over to your bio.
Note: Yet another option for both personal and business Instagram accounts is to use a link collector such as Feedlink or Linktree. These tools help you optimize the one link in your bio by collecting all of your links under one central URL. Each of these tools works slightly differently, so be sure to research your options to see which one may work best for you.
Learn more: 10 of the Best Link in Bio Tools for Instagram
You Can Create Shoppable Posts
With a business Instagram, you can turn your photos and Stories into shoppable posts. This is a huge benefit for product-based businesses. You can either augment your existing ecommerce operations, or set up an entirely Instagram-based shop if you choose.
To get started, click the hamburger-looking icon with three horizontal lines at the top of your profile and go to your Settings. Tap Business and then Shopping. You can then walk through the steps to get approved for Instagram Shopping. (Check out How to Set Up Instagram Shopping for more in-depth instructions.)
From there, you'll be given the option to set up Instagram Shopping on your account. Once you set up an Instagram shop, you'll be able to:
Showcase your products with a customizable storefront on your Instagram profile

Tag products in your posts and Stories and create shoppable content

Access insights about your shop such as product views and engagement
Convert to a Business Instagram Today
With so many robust tools available to business Instagram users, it just makes good sense to convert your account. There's no cost involved other than the advertising costs you incur, which are worth every penny if you set up your ads correctly.
Rallio gives you even more options as a Rallio Local client if you switch to a business Instagram account. From the Rallio Dashboard, you have one login to all your social profiles, one inbox for all your comments and engagements, and additional tools like the ability to respond to comments and reviews.
Our Rallio Local program also pairs you with your own Social Strategist. Consider it your personal teammate who can help you get set up, run ads, handle all your social media engagements and questions, and make sure you're making the most of your business Instagram.