Why Employee Advocacy Works for Even the Most Unusual Businesses
If you're familiar with employee advocacy, then you might be aware of some of the benefits. By engaging your employees as brand ambassadors on social media, you're able to increase engagement and reach for your brand. Employees who share both their own images and videos, along with those of your brand, help to spread the word — often more organically and effectively than brands sharing content from their own pages.
That being said, we know there are still companies that are reluctant to implement an employee advocacy program. Whether they aren't familiar with the concept, or they don't want to devote resources toward it, or they don't believe it works for their particular industry, there are businesses that haven't embraced the concept of employee advocacy.
As such, we've devoted this blog post to explaining how employee advocacy can work for any type of business — no matter how odd. It might just get you thinking how an employee advocacy program could benefit your business.
Note that the businesses mentioned in this article are for example purposes only and not to point out the existence or lack thereof of any type of employee advocacy program. Rather, we're simply demonstrating that there are, in fact, lots of unusual businesses out there — and having some fun with describing how we'd approach employee advocacy if this were our own business.
Custom Spuds
Who knew there was a demand for potatoes with custom messages on them, sent in the mail to special someones? Potato Parcel did. That's right — the company, which touts its one-of-a-kind potatoes as "The Most Unexpected Gift in the Mail," will imprint custom messages or images on a potato and deliver it to anyone you'd like. They even got Shark Tank on board with their concept.
The company claims "100% laughter or confusion guaranteed." Sounds about right.
Kinda makes you want some French fries, no?
But seriously though, imagine the employee advocacy posts for this one. Let's say James from Potato Parcel sends his girlfriend a Valentine's Day Potato Bundle. He films the exact moment she opens the gift and posts this on his Instagram Stories, tagging @potatoparcel.
Now James' friends see the Story and think it's hilarious. They start thinking about potential potato recipients. Next thing you know, they're following @potatoparcel and ordering a Potato Birthday Bundle for their buddy.
The more potato-promoting people on the Potato Parcel team, the more laughter and confusion will ensue. And of course, the more Potato Parcel will grow.
Eyewear for Your Fur Buddy
In a world where dogs are family and not just pets, it should come as no huge surprise that Doggles exist. Imagine playing a game of Frisbee on a sunny day and having your pup struggle to make a catch because the sun is in his eyes. Or imagine having a dog who needs prescription eyewear so she's not bumping into furniture all day long.
Here's where Doggles (goggles for dogs) come in.
This concept screams "social," and we'd venture to guess they have team members whose pups are proud owners of several pairs of Doggles. All they need to do is head out to the park and snap some photos and videos as their fur babies run around wearing Doggles, nailing every Frisbee catch. Or capture the moment their vision-challenged pooch slips on prescription Doggles for the first time.
Tag Doggles in the post, and there you have it: lots more people seeing Doggles and deciding they better get some nice eyewear for their doggos. It's the content we didn't know we needed — and we're soooo here for it.
Employee advocacy is easy when you have a cool product like Doggles. Judging from their Facebook page, people — and their pups — are loving them, too.
Weddings on Wheels
Nowadays, nearly everything you could ever want can be ordered online and delivered to your door. Whether you've got a craving for wings or, hey, you want to order a complete wedding on wheels, you don't have to look far to find what you need in just a few clicks.
Las Vegas Wedding Wagon, for one, will come directly to the happy couple with a wedding officiant, a photographer and even a witness if needed. Starting at $129, the Wedding Wagon is a convenient, no-frills option for couples that want to avoid the high costs and stress of planning a big wedding.
The @lasvegasweddingwagon Instagram shows how easy it can be to get hitched and still keep it classy. Imagine how beautiful this Red Rock Canyon ceremony must have been for this couple.
For the team members who make these events happen, there's an opportunity to capture special moments on camera and share them with their network. (Note that businesses who use Rallio Activate for their employee advocacy program have built-in model release forms in cases like these where there would be a need to get permission to post.)
Related: Case Study: How Rallio's Employee Advocacy Platform Boosted Engagement for Pet Supplies Plus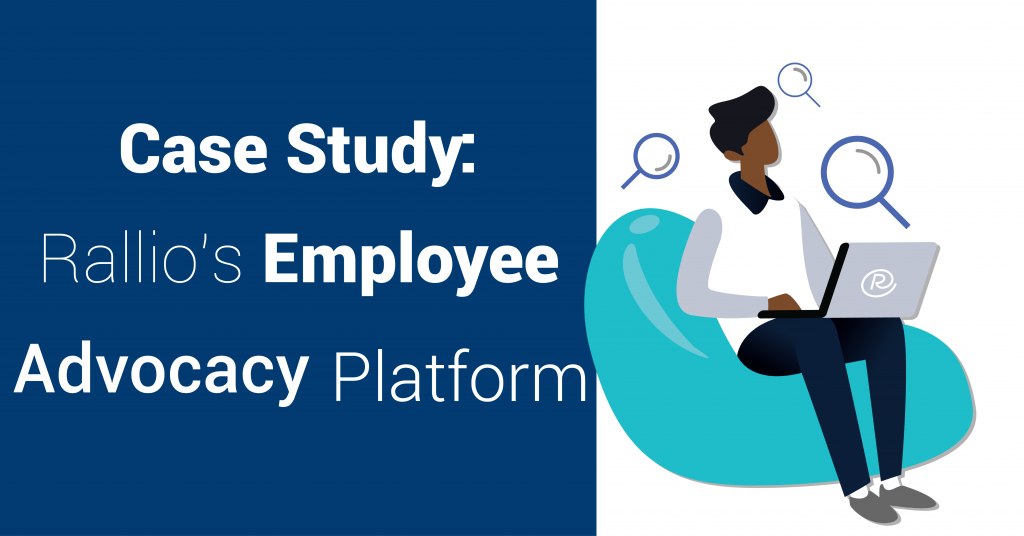 Employee Advocacy Works for All Types of Businesses
The businesses above are just a few examples of how employee advocacy could be used, even in unusual businesses. What type of business do you have? How do you think your team members could help spread the word? The Rallio Activate platform is designed specifically to help organize assets, activate employees to be brand ambassadors, expand brand reach and engagement, and reward and incentivize employees who contribute.
And it doesn't matter if you sell everyday widgets or you're participating in a Squirrel Census. Every type of business and industry can use employee advocacy. That's because behind every business, there are real people doing real things, and that's what makes a business interesting.
If you read through our case study of how one of our clients has made use of Rallio Activate for employee advocacy, you'll see how effective and cost-efficient it can be. Schedule a no-obligation demo of Rallio Activate to learn more and see how it can benefit your business.