3 Steps to Knock Your Product Launch Out of the Park on Social Media
It's the moment you've been waiting for — you're finally ready to launch your product. Whether you have a brand-new startup or a seasoned business, the success of your product launch depends largely on how you market it.
Social media plays a huge role in whether your product launch will be a major success — or a total flop. Among the many mediums available to enable consumers to discover new brands, social media gives your brand exposure to people who otherwise never would have heard of you — all while they're casually scrolling through their feeds.
It's not unlike TV advertising in that people who might be simply watching their favorite show suddenly get interrupted by an ad that catches their attention. Self-cleaning toilets? Brow growth serum? Personalized vitamins? Throw out an ad to the right audience at the right time, and suddenly people start to think that's a product they need in their lives now.
According to Global Web Index: "TV ads lead the field when it comes to brand discovery, cited by 36% of our respondents as the main way they find out about new products and services. But TV is even more important than this figure implies because, unlike search engines, it doesn't rely on any existing need or interest in the product or its category."
Now, consider the ways that social media mimics TV ads: "To some extent, brand discovery on social channels resembles the linear, semi-random nature of TV ads, which are interwoven throughout the content," notes GWI. "By using social media and online display advertising, direct-to-consumer brands are reproducing many of the top strengths TV has enjoyed."
Indeed, the nature of brand discovery has changed over the years. The numbers of people finding brands through recommendations or comments on social media, along with updates on brands' social media pages, has been slowly climbing, says GWI. Take a look at the numbers:
Cost-effective, scalable, and readily able to connect directly with consumers, social media has the distinct advantage of immediacy over other mediums. See an ad for a product that catches your interest, and you can tap on it, maybe even purchase it on the spot from your phone.
TV is starting to integrate this kind of interactivity, too — with QR codes and interactive experiences making their way onto people's TV screens. However, there simply isn't another medium like social media that lets you see what your friends are liking, sharing, commenting on, and talking about in their posts and stories. Nor is there any other medium that lets you talk directly to followers and prospects via comments, direct messages and online reviews.
Get Your Product Launch Right
As you can see, social media needs to be an integral part of your product launch plans. Ignore social media, and you're ignoring an opportunity to make your brand a household name with your target audience. And if you're too hasty or fail to think through your product launch strategy, you risk having your message get lost in the crowd.
With our steps below, you'll ensure your product launch is successful and propels you into growth.
Step 1: Create a content calendar that maps out your product launch timeline.
With all the moving parts that go along with a great social media marketing strategy, it's essential that you organize everything in one central calendar. This way, you can stay on track as you march toward your launch date and make sure your entire team knows what content is needed and what kind of deadlines you have. Some of the things that should go on your content calendar include:
Product photos and explainer videos

Product descriptions for your website

Social media captions for various platforms

Email campaigns announcing your product launch

Ad copy with calls to action

Blog posts about your product

Pay-per-click advertising

In-store or online events
Assuming you aren't going to handle all of the above yourself, make sure you have a team prepared to tackle these tasks. If you can't or don't want to hire a team, be willing to outsource the work. Rallio also gives you the technology needed to automate and organize your social media marketing in one central dashboard.
Step 2: Create a buzz.
Leading up to your launch, your social media should get people excited about your new product. Phrases like "coming soon" and "stay tuned" should be a regular part of your social media vernacular.
At the same time, maintain a sense of mystery. Don't give away all the details, but rather hint at what you have in store. Countdown posts, product previews, stories, Reels, giveaways and contests are great ways to give a glimpse of what's to come.
Contests and giveaways (with clearly spelled out terms and conditions) can be particularly effective at building engagement. Ask your followers to like, comment and tag friends to be entered to win your product, and you'll quickly extend your reach to new followers. Just don't forget to set a deadline to enter and pick a winner!
Step 3: Run social ads.
First, some background on the current state of social media advertising. Apple is rolling out privacy changes in iOS 14 requiring users to opt in to ad tracking across different apps and websites. Google is weighing a similar option for Android devices.
In response, Facebook has now announced plans to prompt users to opt in to ad tracking in order to have more relevant ads served up to them and "to help people make a more informed decision."
Apple says it wants to provide privacy; Facebook thinks it can provide both privacy and personalized ads. If you look at the growth of Facebook ad revenue over the past few years, you can see that Facebook has a vested interest in maintaining its advertiser base:
Rather than panic about the changes, it's important to take control as an advertiser. Here are a few things you can do to optimize your campaigns without relying entirely on the Facebook tracking pixel:
Run web-visit and lead-ad campaigns. Use your website's internal tools to track whether a conversion occurred as a result of your Facebook ads.

Work in reverse, too. Capture leads on your website by requiring users to provide their email address in order to move through the sales funnel. You can then upload that information into Facebook to create a custom audience for your ads and remarketing purposes.

Explore advertising possibilities on other platforms like LinkedIn, Google and Bing.

Build relationships with your followers so they begin seeking out your content. Be hyper-responsive to their comments, direct messages and online reviews. The more you engage with them, the more they'll engage with you.

Use employee advocacy to get your employees involved in sharing your content. When they share content on their personal pages, it's more likely to be seen and engaged with than content from a business page. Our

Rallio Activate

employee advocacy platform is the exact solution you need to address any seismic changes to Facebook advertising. See it in action

here

with our client Pet Supplies Plus.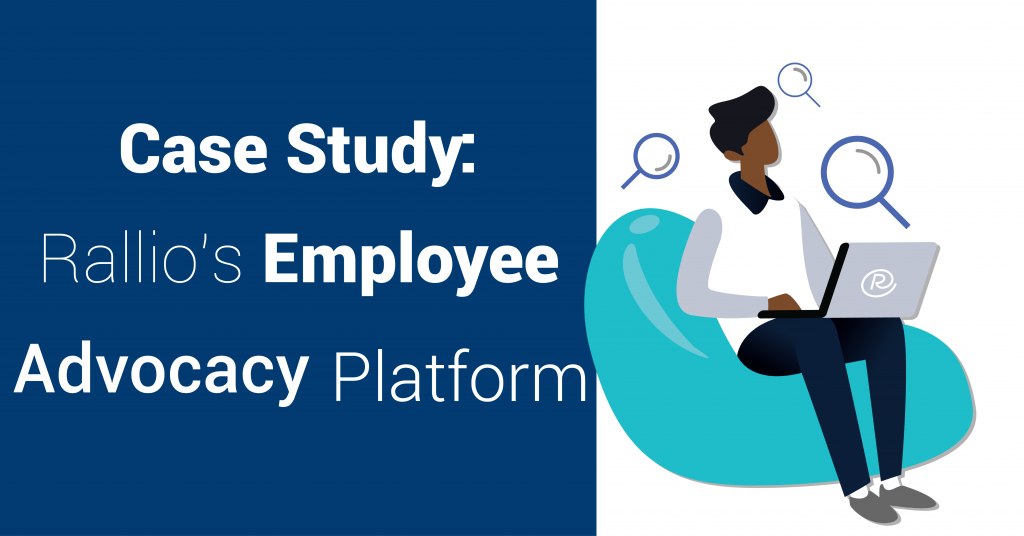 Get Excited About Your Product Launch
There's a lot of work that goes into getting a new product to market. With the help of social media and the right technology tools from Rallio, you can make sure you hit the launch out of the park.
Before, during and after your product launch, keep track of your progress toward the KPIs you've set. Make any necessary adjustments to ensure you're building excitement, growing your following and meeting your sales goals.
Once the product launch is complete, don't forget about all the hard work you put in. Keep in touch with your followers so you continue building a relationship with them. Over time, their loyalty will contribute to the success of future product launches.